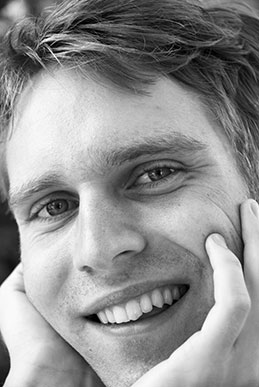 Jakob Gatzka studied German language, literature and philosophy, after attending the University of Television and Film Munich as a guest auditor. He then worked with the director Dominik Graf (Beloved Sisters, 2014) and gained valuable managerial experience at the script agency Free X and at the film production company K5 Film/K5 International, where he handled script review and development, including for the long running German TV series Tatort.
Since 1997 he has written, directed and produced around 40 interviews, as well as short films, trailers and documentaries, including for the Fritz Bauer Forum. His documentary VOICES FOR HUMAN RIGHTS was released in 2018 at the Radcliffe Institute of Harvard University in Cambridge, Massachusetts (USA). Jakob Gatzka has filmed in about twenty countries, including Israel, Iran, China and the USA.
Jakob Gatzka is currently shooting the comedy ALLACH IST GROß, produced by Penned Pictures, Josef Brandmaier and John Hörnschemeyer, with – among others - Jutta Speidel, DOP Moritz Schultheiss; the project is mentored by the famous director Markus H. Rosenmüller (The Keeper, 2018).
www.pennedpictures.com/jakob-gatzka
My Way
MY WAY is a feature length documentary that retraces the perilous journey undertaken by an Afghan refugee, Hussain Hussaini, who was forced to flee his homeland in search of security and a better life. Accompanied by the German filmmaker Jakob Gatzka, he agreed to retrace his difficult journey a second time. The co-production of Figurative Film and Penned Pictures, in which Josef Brandmaier and John Hörnschemeyer as well as Jakob Gatzka acted as producers, will have its theatrical release in the autumn of 2020.
MY WAY tells of Hussain Hussaini's loss of his homeland through his individual fate, looks behind the scenes of his escape to Europe and traces the integration of the adult protagonist into a new culture. Fellow refugees have their say, as do smugglers and finally the actor Felix Römer from the Berlin Schaubühne as an employee of the German asylum authorities, who conducts Hussain's asylum hearing in Munich. The Afghan singer and actor Pouya Raufyan, who travelled to Afghanistan with Albert Ginthör from the Gärtnerplatztheater for 55 days at the beginning of 2017 to escape his impending deportation, has taken on the role of narrator and will contribute part of the film music. In interviews accompanying the plot, Claudia Roth (Vice President of the German Parliament) and others will comment along with the former mayor of Munich, Christian Ude, the bishop Heinrich Bedford-Strohm and the journalist Natalie Amiri (ARD). MY WAY was dramaturgically accompanied by Roland Zag and editor Barbara Toennieshen (The Perfect Trap, 2019).